For years now, a special kind of electronic music has thrived deep within the underbelly of America. Nearly impossible to categorize, the music and the artists who make it exist between genres, scenes and industries. Fueled by an undying DIY ethos, releases often resemble everything from power electronics, noise, ambient, techno, punk and much more. Each corner of the vast U.S. landscape has become breeding ground that produces a progressive and modern form of electronics which is no doubt influenced by unique regional and national factors. The artists often exist beyond the spotlight of most electronic music and typically reject standard conventions or paths. It thrives in basements, galleries, clubs, living rooms, warehouses, deserts, forests and anywhere else a show can be put together.
This form of music has been a very important part of The Brvtalist's background and our progression. When we first heard about a new release which both exposes and celebrates this art form, we were immediately interested. Eminent Domain (L.I.E.S. Records) is a 3 x LP + 45 which brings together some of the most celebrated names of the American underground and pulls artists from all over the 50 states. To mark the occasion, we wanted to shed some light on the comp and speak with some of our longtime friends and collaborators about the music, the release and what makes all this so special. (see interviews below)
Shane English -Texas based producer and engineer of Eminent Domain.
The Brvtalist: Tell us about your history with DIY electronics. Would also love to hear about the communities you are/were involved with in the South and/or beyond.
S. English: I was born in Ypsilanti, MI, but grew up in a small city outside of Dallas. I started getting serious about playing drums and guitar at a pretty early age (10/11 years old) and was in several punk bands in the late 90's/early 2000s. My musical interests continued expanding in high school as I discovered bands like Wire and Suicide. At 17, I graduated and moved to North Texas' liberal oasis, Denton, and joined a gender-bending post-punk/industrial band. We were going for an unholy mix of The Birthday Party/Bauhaus/Thrill Kill Kult/Big Black/Christian Death kind of thing. It was a 3 piece and I played bass, another guy played guitar, and our singer programmed our $100 Alesis drum machine which was blasted through a huge crappy amp. We would wear trash bags and duct tape as costumes and spend thirty minutes in the bathroom before every show putting on makeup. We were so young, but took the project very seriously. We ended up getting a lot of attention in Dallas/Denton and eventually toured the U.S. small club/basement/DIY circuit several times. When the band fizzled out I stayed in Denton for quite a while. Around 2006-2009, Denton was experiencing a small renaissance of underground music and house shows happening nearly every night of the week. Around then is when I met Rob Buttrum (his solo project, FILTH, appears on Eminent Domain). By far the darkest of Denton's house show venues---House Of Tinnitus--- was lived-in and run by Rob and his partner at the time, Amelia. H.O.T. became an essential destination for every noise/experimental/extreme act touring across the States. It was definitely a turning point for me. I worked a shitty kitchen job but nearly every other night I was going there to catch acts like Pedestrian Deposit, Weak Sisters, Halflings/Yellow Tears, Black Leather Jesus, Taint, White Mice, Dromez, Black Mayonnaise, Climax Denial, DEMONS, and countless others in this amazingly intimate environment. The living room turned into a world class venue with 150 people losing it with red strobe lights pulsing. The performances I saw and the connections I made there with the U.S. underground experimental/extreme electronics community absolutely laid the groundwork for where I'm at now. This is also around the time I started my project with longtime friend/collaborator Jonah Lange, Corporate Park. CP, Rob, and the Denton crew were lucky enough to go on a couple mind-bending tours of the Midwest and East Coast in the late 2000's/early '10s--- meeting many new kindred spirits along the way.
TB: Talk about the process of assembling the compilation. What was your approach and what did you want to achieve?
S. English: The idea for the compilation was pretty simple -- peel back the curtain on the fertile underground electronics scene in America. There's no way it could be completely comprehensive as there's so much good stuff happening all over the country. I just began with asking my friends and people I respected. It organically came together. Classic 80's experimental compilations like The Elephant Table Album, Controlled Bleeding's Dry Lungs series, RRRecords' God Bless America & Bruitiste were inspirations during the process. Shining a light on people creating their own entertainment + reality in their communities was the ultimate goal.
TB: Tell us about your track on the release.
S. English: "Fade Out" is a track I recorded over a decade ago in a tiny room while briefly living in Hot Spring National Park, Arkansas. I used a 2001 iBook and a large sheet of glass for extra percussion and my voice. The Corporate Park track "Benevolent Surveillance" was prepared for a special performance circa 2014 at our friend Tiago's loft in Cleburne, Texas. That was a special night- Traxx (Melvin Oliphant of Nation) blasted a transcendental set until the very early morning.
TB: What's coming up next for you?
S. English: I've been working on a new project here in Austin with JT Whitfield. We're hoping to have a mini-LP finished within the next couple of months. My longtime collaboration with Jonah Lange & Beau Wanzer, CP/BW, is currently working on compiling a brand new LP for release some time this year. I've also been working on what will hopefully become a new concept S. English LP.
Suzy Poling - Los Angeles based multimedia artist.
The Brvtalist: What is your history with DIY electronics? Would also love to hear a few words about your time and the communities in Detroit and L.A. and what makes this type of music so unique.
Suzy Poling: I got into electronics and underground music while growing up just outside of Detroit and then Chicago after that. It was in the air so to speak. I've lived in both the Bay Area and L.A. for about 15 years now, all in fairly industrial areas and I would say it informs my work. I know a lot of friends on the comp and I can't speak for everyone but I feel like much of this aesthetic of sound exists just outside of genres and in between worlds - it's like we meet out there. Heaviness and texture is important and even hyper minimal at times by arranging rhythmic tracks out of synth pulsations and manipulating beats to be more varied in tone and concept. Classic methods, really. Some people call it Modern Electronics which feels pretty open and right to me but this comp seems to have a lot of techno artists and just a lot of variation. Most of these artists are pulling out very powerful sounds that are sonically dynamic with a lot of tonal range. They just happen to have varied elements that are slightly different than just straight noise or dance music.
I've personally felt more aligned with a lot of the lesser known but intelligent electronic bands that existed out minimal synth music of the 80s, for example bands like Bourbonese Qualk or Doxa Sinistra.
TB: Tell us about "Beyond The Body", your contribution to the compilation.
SP: Well, I submitted a track and it was selected. I put a track in that I wanted to use for my upcoming LP but I knew this comp was special, so I gave something that I was into. 
The track "Beyond the Body" is about Life/Death, Astral Projection, Transhumanism and any experiences of body transformation.
TB: What are you working on now?
SP: I'm recording a full length due out end of year and also a split/remix collaboration EP with my friend Rrose. There are a couple more comp tracks out this year and some more touring here and there. Mostly trying to just focus on releases.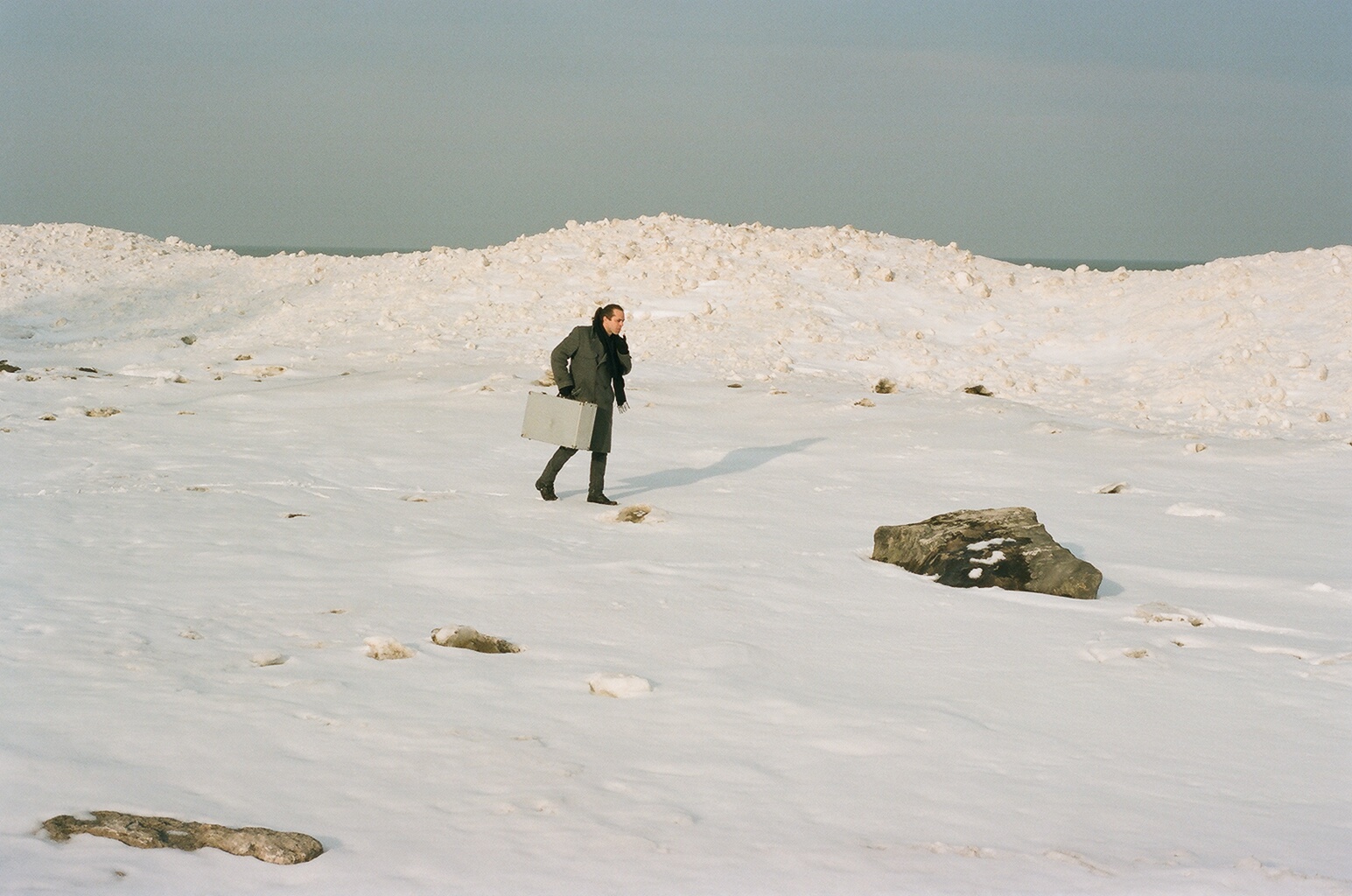 Champagne Mirrors Alex Barnett - Chicago based producer and operator of Scrapes Recordings.
The Brvtalist: Tell us about your history and the DIY electronics community in Chicago.
Alex Barnett: My first electronic music work in Chicago was in the band Oakeater around 2006. Jeremiah, Seth, and I lived in a warehouse together with a lot of other people that hosted shows and practiced in our disgusting, moldy basement. At that time and today there have always been great electronics acts in Chicago. I attribute a lot of the quality to Chicago's music to the harsh vibe of the city as well as art-hostile nature of the Midwest. People who want to make weird electronic music here tend to be very sincere with it.
TB: Talk a little about "TUNNEL13", your track on the compilation.
AB: TUNNEL13 was something I developed for my live set about 2 years ago. The track is about talking myself through a mirror maze while nefarious reflections distract me.
TB: What's coming up next for you?
AB: The new BARNETT+COLOCCIA-VLF LP was just released and coming up on April 2nd is SCRAPES0006 F-DORM: COMMUNE, which is a new collaboration between between Connor Camburn of litüus (AVIAN), and visual artist Conor Ekstrom.
Eminent Domain is out now via L.I.E.S. Records and this is definitely one to pick up. Special thanks to Shane English, Suzy Poling and Alex Barnett for speaking with us.
-JRS
*Champagne Mirrors photo by Maria Tzeka
v/a-Eminent Domain
3 x LP+45+download code
A1.Christian Mirande-Looks Over the Edge Then Back Then Over Again
A2. Prisons-Tell Lie Visions
A3. JT Whitfield-Bleak Speak
A4. The New Me-Les Dix Doigts
B1. CBN-Who Has Time for Tears
B2. Filth-The Crucial Point
B3. Daniel Holt-Near the Window
C1. Brett Nauke-Void Collection
C2. Beau Wanzer-Don't Eat The Ground
C3. Halflings-Strength in Numbers
C4. HOGG-Improvment
D1. Pod Blotz-Beyond the Body
D2. Nick Klein-Microscopic Cop
D3. 51717-אדגמה
E1. Champagne Mirrors-Tunnel13
E2. Enrique-In the Summer of 2015
E3. Skander-Running into Danger
F1. Copley Medal-Facing Words of Thanks
F2. ARIISK-Ominous Playback Transmission
F3. Lussuria-The Swan King
bonus 45
45-a Corporate Park-Benevolent Survelliance
45-b S.English-Fade Out